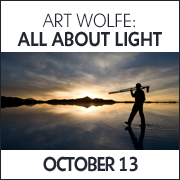 The folks at creativetechs (who also put together the free 4-week and 10-week photography courses, the free 6-month Photoshop Course and free 10-week Lightroom course) are having a special one-day seminar with Art Wolfe.
Tuesday, Oct 13, 11am-1pm PT
This is part of a 3-day seminar Art has put together and is teaching separately. If this session is successful enough, he may come back and teach the other days in free sessions with creativetechs as well.
General info
Seminar series info
Registration page
Who is this guy?
Art Wolfe web site
Travels to the Edge (Art's PBS show) web site
wikipedia article on Art Wolfe