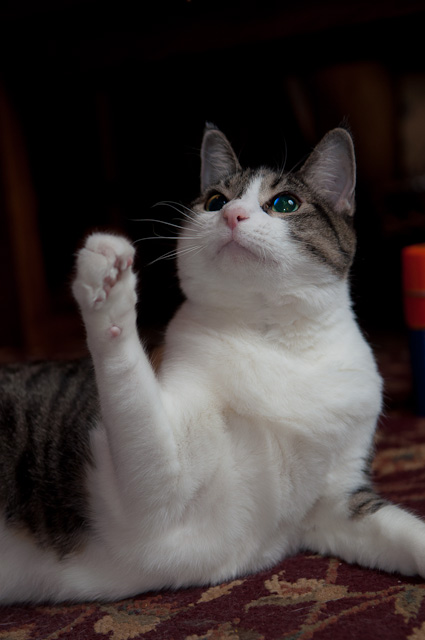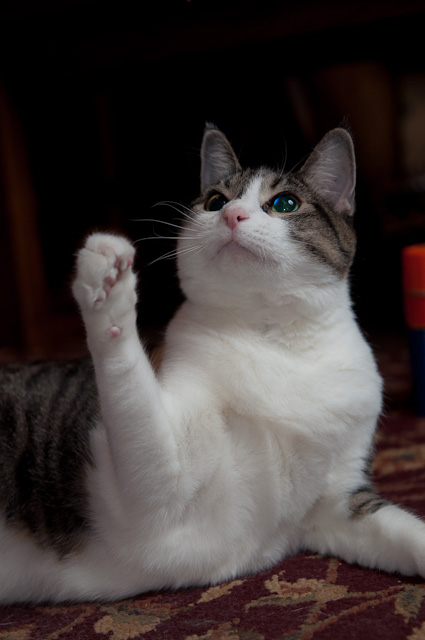 It's hard to express or explain how profound an impact pets and companion animals have on our lives.  If you have (or have had) one or more pets, you understand.  There is an unspoken bond, something that transcends human relationships.  Unconditional love and uncontainable joy.  Many pet owners, myself included, even prefer our relationships with animals over those with humans.  Our pets are special.  Humans can be a real pain in the ass.
This past weekend, I had to say goodbye to my constant companion and dearest friend — Daisy.
The loss came without warning or time to prepare — she was here one moment and gone the next.  Myself, my wife Nicole and the staff of First Emergency Pet Care did everything we could to save her, but she was gone.  Working full-time from home as I do makes the loss even more obvious — Daisy was my constant companion in my day-to-day activities, and without her here, the day-to-day is very different.
She also leaves behind her sister, Scout, who I am sure misses her even more than I.
Faced with the immediate question, "Now what?" I turned to my photography.  I decided to make a slideshow to celebrate Daisy's life, and to remind us of the great memories we have of our girl.  Daisy was a regular subject for me — sometimes more willing than others.  I was not entirely surprised when I pulled the keyword totals from Lightroom — looking at my own private collection of photographs (while it does not rival my commerical/work photos collections, my personal work still numbers in the 10s of thousands), I found that photographs tagged with "daisy" or "scout" made up nearly 1/3 of my photographs.  My wife and I culled through the photos and videos of Daisy, selecting our favorites for inclusion in the show.
For music, I knew right away I would go to Kevin MacLeod.  I've used Kevin's compositions before in both slideshow presentation as well as theatrical sound designs; his work never disappoints and you can't beat the prices for his royalty-free music selections.  I cannot thank Kevin enough for his contribution, and encourage you to review his work if you need music for your own slideshows or similar projects.  At the time, I was personally too upset and distraught to even listen to selections, and thankfully my wife was willing to dive into Kevin's music site and we both agreed the selection "Eternal Hope" was a perfect choice — both melodically and the title itself.
For those so interested, here is some of the technical background on this show:
The actual slideshow was constructed in Photodex ProShow Producer 4.1.
Images and videos were managed in Adobe Photoshop Lightroom 3.3.
Physical prints (several of the first photos in the show, of Daisy as a kitten) were scanned in via my HP C7180 into Adobe Photoshop CS5.
Images and videos were custom ordered in an LR collection, then exported as 100% quality jpgs, sRGB, constraigned to 1920×1080 (final desired output being 1080p), using a custom sequence index to keep the exported files in custom order.  I prefer using a native LR export rather than the Photodex LR plugin since it provides more control over the arrangement, naming and location of the exported images.
The slideshow was constructed very "basic" in nature — no fancy transitions or movements; I wanted to stay with simple cross-fades and focus on the images and memories they evoke, not create yet-another-slide-show-feature-demo, which (in my personal opinion) are all-too prevalent with modern slideshows.
I quickly realized I didn't have enough music with Kevin's basic track, so (pursuant to the editing allowed in Kevin's music license) I did a couple of simple edits in Adobe Audition to loop two verses of the track to pad out time.  This gave me just enough time to keep the transitions a reasonable time, but not make the music feel overly repetitive.
Opening and closing text/credits were done with ProShow captions, using keyframes and opacity adjustments to fade them in and out at the desired times.
Final export was done from the ProShow youtube export utility with the 1080p (best quality) setting.  Due to the size of the video file (nearly 1 GB), I saved the video directly to my local storage and uploaded it separately rather than attempt the upload from ProShow itself.  The upload took over 2 hours, and the "processing time" for youtube to make the video available took over 12 hours.
Making this slideshow, I realized how much Daisy was my "go-to" model for new photo equipment —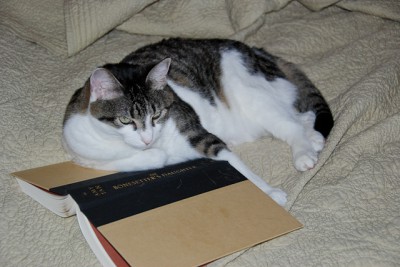 The photo above (1:10 in the slideshow) is the very first image I recorded on my first professional DSLR camera.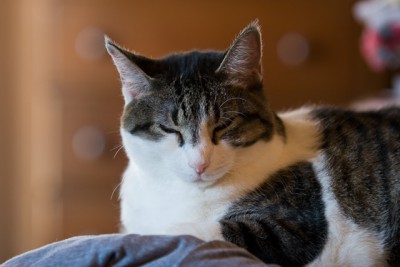 This photo (1:23) is the first image I recorded with my 70-200/2.8 Nikkor (my favorite lens and arguably the best glass I own) — I used it first to photograph my Daisy-girl.
Reviewing other selections, I noticed that in almost every case of purchasing a new light, modifier or other gadget — the first photos were of Daisy and/or her sister, Scout.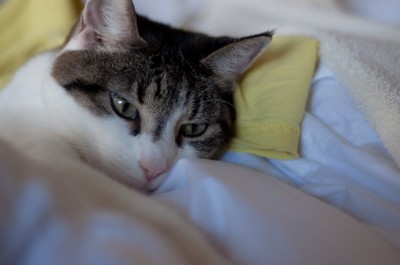 This image (7:24), a closeup of Daisy laying in some of my laundry, is one of a small impromptu photoshoot I did with her which turned out to be the last photos recorded of her.
After the slideshow was almost complete, I had to download a short video I made with a small handheld video recorder (a modded Kodak Zi8).  Very much to my surprise there were two earlier videos still on the memory card — I had completely forgetton I had recorded them.  One featured a brief interaction with Daisy, and I realized that video was the last recording I had of my friend.  Unwilling to remove any other images from the slideshow (squeezing the video into the original presentation would require either additional editing to the music or bumping some images to make up the time) — I tagged the video on to the very end of the show, which seemed to be a fitting and appropriate bookend for the presentation.
The DPChallenge entry referred to in the slideshow is this one: Stars In Her Eyes.  DPChallenge is a weekly photography contest that exists simply for the sake of having a weekly contest.  I'm not as active there I was once might have been, but it's a great place to visit for inspiration or a method for "self-assignment" if you're feeling burnt out or bored with your current photography.  I've self-assigned many more challenges there than I have actually entered; even if you don't enter the contests each week, it's a fun site to visit and another way to keep yourself from becoming completely bogged down in the more mindless commercial shooting that actually pays the bills.
The final slideshow is embedded below.  I recommend viewing full-screen at one of the HD modes (720p or even 1080p if your display and bandwidth supports it); the original upload is 1080p.  Turn up your speakers or headphones, because there is music and audio with the embedded videos that you don't want to miss.
If you have problems with the embedded player below, here are links to the default quality video as well as the HD quality versions.
Update: You can also read more of the story of how Scout and Daisy came into our lives at my wife's blog.